Online Strategy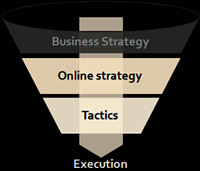 Everyone knows that one of the fundementals of any new business venture is to have a Business Plan.
The same is true when you take that business online - you need to have a carefully thought out Online Strategy. Anything less and you could find yourself wasting valuable resources (both time and money) on areas that yield no return.
Remember, having all the tools at your disposal is one thing - knowing how to use them or how to use them effectively, is completely another but that's where Peak Consulting can step in to help you.
You want customers to find you wherever they are searching, be that — Google™, Yahoo!®, Ask®, Bing® or others. You need to be thinking about directory listings, search engine submissions, email marketing, Search Engine Optimization SEO, etc. It's all about putting your business in the right place at the right time for the right customers – all at the right price! To do this you're going to need some sort of Online Stategy!
Peak Consulting will work with you to develop that comprehensive online strategy for achieving your business goals and promoting your brand online. We'll Put Your Business Online and we'll do it within your specified timeframe and your desired budget.
Contact Peak Consulting today for a free, no obligation initial consultation to see how we can help you.